Kitchen and Bathroom Cabinetry
Choosing cabinetry for a kitchen or bathroom remodel is exciting with the help of our knowledgeable staff. Let us help you can make an informed decision on the kitchen or bathroom cabinets that best fit your style and budget.
Overall Look and Feel of Your Space
Cabinets come in a variety of styles, from traditional raised-panel doors to sleek, modern designs. We'll help you choose a style that will complement the look of your dream kitchen or bathroom.
Durability and Maintenance
Cabinets need to be as durable as they are beautiful and functional. We offer a variety of materials designed to last, so you can rest assured your new investment will hold its value for years to come.
Room Size, Layout and Functionality
The size and shape of your kitchen or bathroom can determine the best type of cabinetry. Our broad selection of stock cabinetry comes in standard sizes, while custom cabinetry can be designed to fit odd sizes, or unusual spaces. The amount of storage you need, and options such as pull-out shelves or built-in organizers can help you make the most of your cabinetry. Our staff can discuss the many options available!
Cabinets can range in price, depending on their size, material, and features. We'll create a cabinetry solution that fits your design style, available space and storage needs, and your budget.
GNH Lumber features kitchen or bathroom cabinetry from standard to custom, and for every budget and lifestyle. Each trusted cabinetry line offered by GNH Lumber provides the same great service, product innovation and quality – assuring your vision becomes a reality.
---
WF Cabinetry offers dozens of cabinet door styles from transitional to traditional, elegant to artisan, and more. View the door styles below that feature raised panels, bead board, arches, Shaker style, among others. Then click on the door styles that appeal to you to discover hundreds of finishes—classic stains and paints plus an array of hand-wiped and brushed glazes, as well as heirloom finishes.
Your Choice of Door Styles
Cabinet Storage
WF Cabinetry's storage solutions are designed with you in mind, creating a functional organized space that's as attractive as it is efficient.
Base Pull-Out Organizer
Base Tray Divider
Cutlery Tray
Door Mount Spice Rack
Door Storage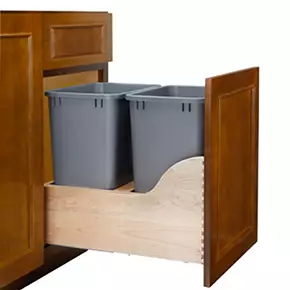 Double Waste Container
Drawer Pegs
Knife and Utensil Organizer Product
Knife Block Divider
Single Waste Container
Sink Base Drip Tray
Tip Out Tray
Utensil Organizer Product
Utility Tray Product
Vanity Hamper
Wall Filler Pull Out Product
WF Cabinetry knows how important your kitchen is to your home. That's why they offer semi-custom cabinets for that space, making your vision a reality.
---
We know how much you depend on your kitchen and bathroom, day in and day out. So we build our cabinetry to stand up to whatever life throws at it. Count on your KraftMaid® kitchen or bath to look beautiful and perform flawlessly throughout a lifetime of constant use.
KraftMaid kitchen and bath cabinets are durable, high-quality cabinets with unmatched cabinet features and premium construction. Our skilled cabinetmakers carefully construct your kitchen by hand, using traditional woodworking techniques. And our sharp-eyed inspectors ensure quality in every detail from start to finish.
Kitchen Design Style
First choose an overall design style—like Modern, Traditional or Rustic, to start your cabinet selection process. Then, find cabinets that match the look you're going for. We make this process even easier, by making cabinet doors searchable by style, and color.
Kitchen Visualizer
Try the KraftMaid® kitchen remodel visualizer tool to create a customized design plan for your new kitchen. The virtual kitchen remodel tool simulates how the various design elements you're considering will come together; cabinets, paint colors, backsplash, countertops, and flooring; all working together in your finished space. It's an easy, risk-free and fun way to weigh your options!
Get inspired with KraftMaid's Bath Collection
Whether you're upgrading the private bathroom in your home's master suite, a high-traffic family bathroom or a guest powder room, you'll find lots of KraftMaid® base cabinets, vanity sink bases, wall mount and console vanities, and decorative accent collections to fit your space, your storage needs and your style.
---
Omega Cabinetry offers the experience of thoughtful, artistic design, with endless possibilities. From custom, indulgent opulence, to a balanced look of modern and casual, Omega's expertly crafted cabinetry is naturally elegant. Whether you are looking for semi-custom cabinetry or a truly custom cabinet design, Omega creates a distinctive lasting first impression that's sure to last for years to come.
Distinctive Door Designs
---
Backed by the largest and most trusted cabinet company in the U.S. – MasterBrand Cabinets®, Mantra Cabinets offers quality products with all the upgrades built-in. In addition, their reliable service exceeds expectations, while quick shipping meets the tightest of deadlines.
---

US Cabinet Depot offers high-quality components at unbelievable prices. No need to sacrifice style, features, or functionality for cost savings. is a blend of cabinetry professionals from many different areas of the cabinet industry.
You'll enjoy a wide range of cabinet styles, including traditional, modern, and contemporary, in a variety of finishes and color options. With cabinet lines ranging from basic to premium, with many customization and storage options, accessories and upgrades, homeowners can choose the quality and features that best meet their needs and budget.
Highland Framed Cabinets
Choose from stains to paints and modern to traditional profiles, there are options to fit any aesthetic. You'll even find high-end features like soft-close hinges and dovetailed drawer boxes.
Altaeuro Frameless Cabinets
The Altaeuro line of full access (frameless) cabinetry achieves an upgraded look and feel with its high-quality boxes, altamax drawer system, and Hettich soft close hinges.
Rev-a-Shelf  Accessories
The wide array of Rev a Shelf Accessories by US Cabinet Depot offers efficient, high-quality cabinet storage and organizational products. Find various options to integrate seamlessly with your cabinets.